Twg/meets graham silveria martin
Outside of History Group Show

Graham Silveria Martin's current work is a continual exploration of queer methodologies and approaches to art practice, embracing the idea of cruising as a method.

Drawing from archival source imagery, principally video stills taken from the Le Salon production 'Al Parker's Top Performances' released on VHS in 1995. The video is a compilation of scenes from gay porn films from the late 1970s and early 1980s featuring actor and activist Al Parker. Each painting in the series captures a fraction of a second in the video, a sort of liminal non-space that can only be experienced by the viewer in this context through the medium of painting.

The subject matter is provocative and yet rendered in a way that it is not immediately discernible, utilising the tight crops of the original production and often cropping further such that bodies and context become more ambiguous. These subtle abstractions are intended to encourage slow-looking, revisiting and introspection. The source image for each painting depicts a fleeting moment suspended between two points in time, where two fields of a single frame have been interlaced for continuity - a historical method of video production that aimed to enhance motion perception whilst conserving bandwidth. On closer inspection, the paintings themselves break down into a series of lines that demarcate form, evoking the distinctive visual lines characteristic of interlaced video. They not only serve as a homage to a pre- digital epoch and exploration of redundant technology but also reflect a moment in pre- HIV/AIDS culture.
Installation View, Outside of History, 2023
Graham Silveria Martin, APTP (00:53:28), 2023, Acrylic on canvas, 120 x 140 cm

Graham Silveria Martin, APTP (00:51:25), 2023, Acrylic on canvas, 120 x 140 cm

Graham Silveria Martin, APTP (00:54:42), 2023, Acrylic on calico (framed), 45 x 60 cm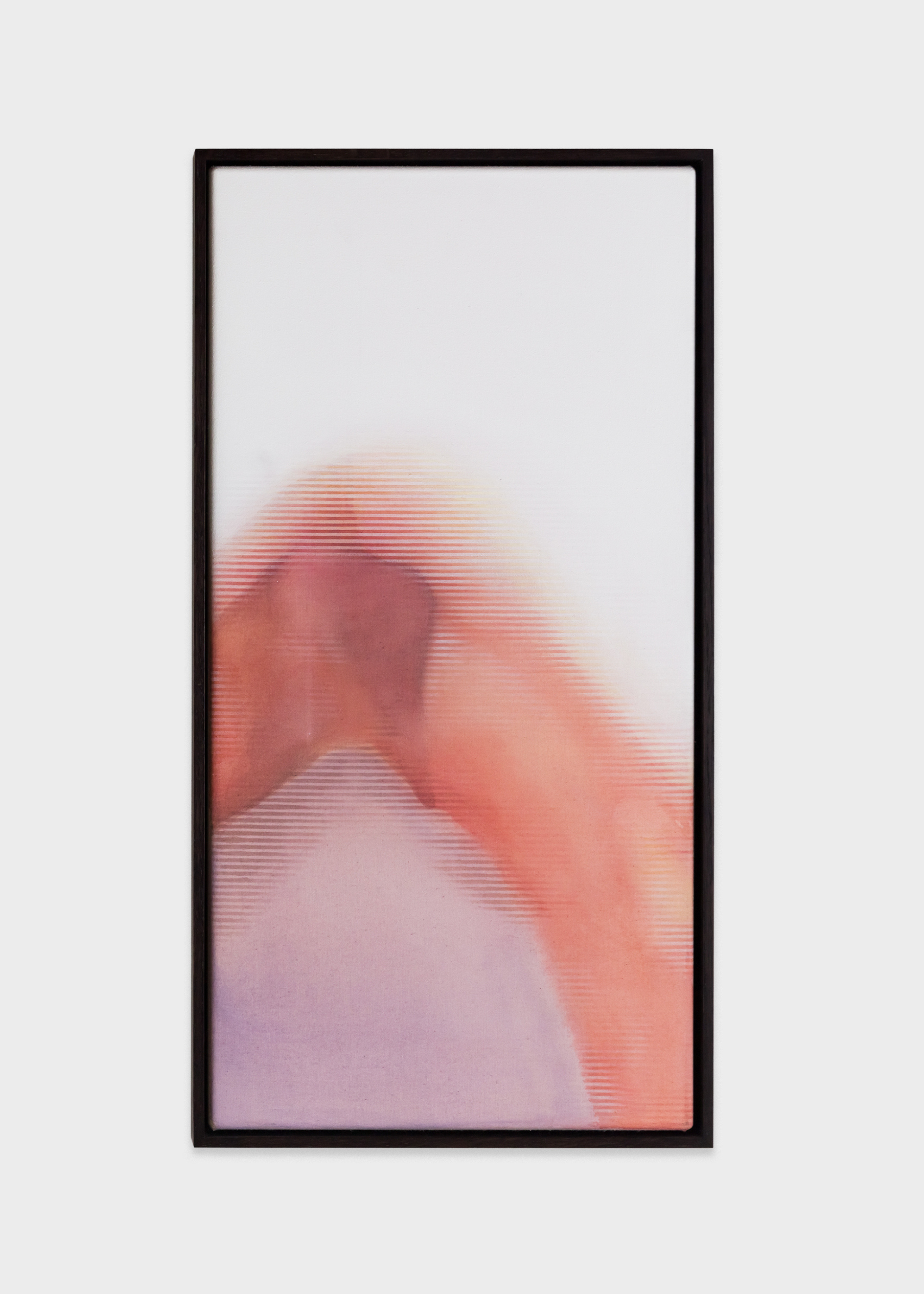 Graham Silveria Martin, APTP (00:54:40), 2023, Acrylic on calico (framed), 30 x 60 cm
Installation View, Outside of History, 2023

Graham Silveria Martin, APTP (00:54:44), 2023, Acrylic on canvas, 70 x 80 cm
TWG/THEWHOGALLERY AUDIO


Unit 8 & 19C, 39-45 Gransden Avenue E8 3QA
11-6pm Wed to Sat, by appointment only